The best orthodontist in Hyderabad does a perfect job with one's crooked set of teeth. Patients visit the clinics of the best orthodontists in Hyderabad. Naturally, looks do matter to enhance personality.
Ocean Dental
Orthodontics happens to be a branch of dentistry that does deal with the correction of teeth and also the rather misaligned jaws. This can rather improve the function as well as the appearance of one's teeth as well as smile.
It helps to consult the best orthodontist in Hyderabad for the perfect smile. 
Benefits of orthodontic treatment
There are several benefits of having orthodontic treatment. A few benefits include:
Improved oral health

Improved function of teeth cum jaws

Improved appearance of teeth cum smile

Better self-confidence and also self-esteem
Importance of an orthodontist
What does orthodontic therapy aim to achieve? A healthy, functioning "bite," which does include tooth alignment and jaw position, is the goal of orthodontic therapy. Jaws as well as teeth can work well together if properly aligned. This helps both dental as well as overall health. The best orthodontist in Hyderabad can do the needful.
An orthodontist does specialize in straightening the teeth with the help of braces. A person may see an orthodontist at the age of six or seven when the permanent teeth do start appearing and are also crooked in nature. Orthodontists can be of help with cosmetic dentistry.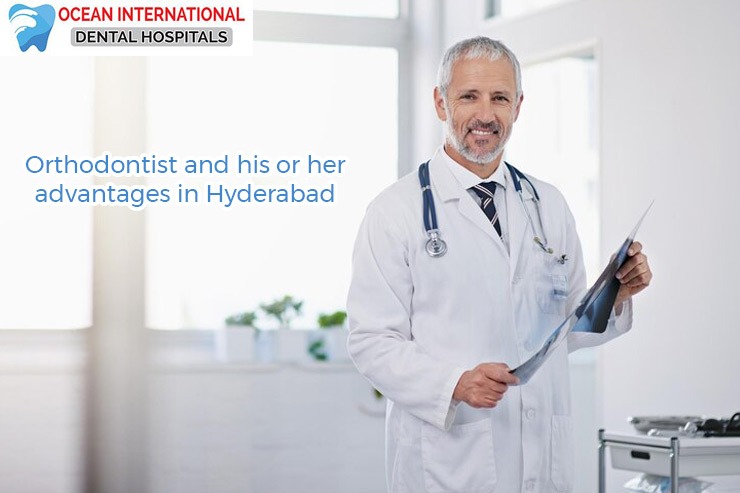 Orthodontists and Dentists are those doctors who focus on the oral health of an individual. These doctors who study general dentistry and treat the conditions of the gums, teeth, tongue, and mouth are known as dentists.
Orthodontists can help in the removal of teeth or surgical removal of wisdom tooth. Yet, he does not play a direct role in surgery. He is indeed responsible for an initial evaluation, pre-surgical orthodontics, planning of the surgery, and also post-surgical care along with the surgeon who does perform the surgery. 
The orthodontist is successful if he or she is very patient, knowledgeable as well as precise in his or her respective work. Their staff needs to be friendly, professional, and very cooperative too and the clinic needs to be very hygienic. 
How long does the orthodontist treatment?
Much depends on what correction the treatment is being aimed at, patient age, tooth-supporting tissues that include gums as well as bone health, and a few other factors. 
Why select an orthodontist?
If considering getting braces fixed, then it is required for the person to consult an orthodontist or a general dentist. Both sorts of dental professionals can indeed provide braces, but an orthodontist has additional training in the area. 
Why choose an orthodontist for braces?
1
. Orthodontists are experts in straightening teeth
.
Orthodontists do receive specialized training in straightening teeth, so they are well versed in the dental professionals and also best equipped to provide a good set of braces. If desiring to ensure that the teeth are straightened correctly, consulting the orthodontist is a good idea.
2. Orthodontists provide h a variety of braces options.
Orthodontists are familiar with the latest advances in braces technology, so they can indeed offer a variety of braces options that may indeed be suitable for one's needs. A person will be able to discuss all of the options with an orthodontist and then be able to choose the type of braces that suits them properly.
3. Orthodontists can help you achieve desired results.
Orthodontists will indeed work toward developing a treatment plan that will enable them to achieve one's desired results
4. Orthodontists provide comprehensive care.
Orthodontists do provide comprehensive care, which implies that will provide much care and concern at every step of the treatment process of the brace being fixed. They do answer all sorts of questions the patient prefers to be clarified and also help via the process.
Conclusion
The best orthodontist in Hyderabad can do a perfect job of one's smile by fixing the perfect set of teeth.